The World of Akira Toriyama (鳥山明の世界, Toriyama Akira no Sekai) is a series of art books by Akira Toriyama featuring artwork from Dr. Slump, Dragon Ball, and a variety of Toriyama's other projects — including one-shots and video games.
Art Books
The World of Dragon Ball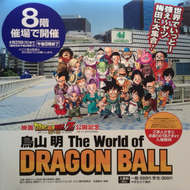 The World of Dragon Ball (THE WORLD OF DRAGON BALL) was a traveling art exhibition held in three different cities across Japan in 2013, corresponding with the release of Dragon Ball Z: God and God. The exhibition was shown in Tokyo from March 27 until April 15, Ōsaka from April 17 until April 23, and Toriyama's hometown of Nagoya from July 27 until September 1, 2013.
See also
Ad blocker interference detected!
Wikia is a free-to-use site that makes money from advertising. We have a modified experience for viewers using ad blockers

Wikia is not accessible if you've made further modifications. Remove the custom ad blocker rule(s) and the page will load as expected.