Tambourine[1][2]

タンバリン Tanbarin

Personal Data
Universe
7th Universe
Galaxy
Milky Way, North Galaxies
Race
Nameccian
Birthplace
Earth
Status
Deceased
Gender
Male
Professional Status
Affiliation(s)
Demon Clan
Headquarters
Earth
First Appearance
Manga Debut
Volume 11, Chapter 135
Game Debut
Dragon Ball: Daimaō Resurrection
Family
Techniques
Image Gallery
Tambourine (タンバリン, Tanbarin) was a mutated Nameccian, and one of Piccolo Daimaō's sons. He was member of the Demon Clan.
Background
Tambourine was was born after his father was unsealed from his container. Afterwards he was ordered by Piccolo to retrieve the list of martial artists from the Tenka-Ichi Budōkai and to hunt the Dragon Balls Upon his arrival there he obtains the list from the announcer and kills Kulilin with a single kick to the temple.
Personallity
Appearance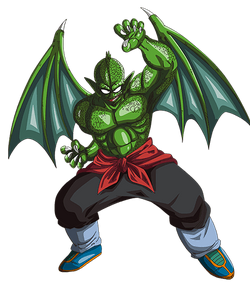 Abilities
Dragon Ball
Piccolo Daimaō Arc
In Other Media
Creation and Conception
Trivia
Quotes
References
↑ Dragon Ball Adventure Special, page 63
↑ Daizenshū 4, page 47
Ad blocker interference detected!
Wikia is a free-to-use site that makes money from advertising. We have a modified experience for viewers using ad blockers

Wikia is not accessible if you've made further modifications. Remove the custom ad blocker rule(s) and the page will load as expected.