The Monster Shark (オバケ鮫, Obakezame) was an enormous shark living off the coast of Tokunoshin's Island.
Background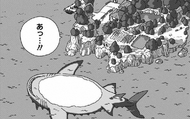 The monster shark was a nocturnal creature that attacked anyone coming from or going to the island. It was first seen appearing out of the depths when Jaco Teirimentenpibosshi's spaceship crashed into the ocean, though it was unable to catch him. Later that evening, Jaco easily killed the shark with a single blow. The next morning, its corpse was still floating alongside the island to Ōmori's disbelief.[1]
Appearance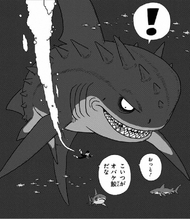 The monster shark was a titanic creature, easily dwarfing other sharks, comparable in size to the very island it terrorized. Its dorsal fin alone towered over Tokunoshin Ōmori's boats. The shark had two rows of large spikes running along its backside and a mouth filled with four rows of massive, sharp teeth.
Trivia
References
↑ Jaco the Galactic Patrolman chapter 1
Ad blocker interference detected!
Wikia is a free-to-use site that makes money from advertising. We have a modified experience for viewers using ad blockers

Wikia is not accessible if you've made further modifications. Remove the custom ad blocker rule(s) and the page will load as expected.