Boo

ブウ Bū

Alternative Name(s)
Majin Boo (Pure Evil) (魔人ブウ (純粋悪), Majin Bū (Junsui Aku); FUNimation "Evil Buu", Viz "Djinn Boo/Skinny Boo")[1]

English Localized Name(s)
[2]
Boo of Pure Wrath
Personal Data
Universe
7th Universe
Race
Genie
Birthplace
Earth
Birthday
May 8, Age 774
Status
Sealed
Gender
Male
Voice Actors
English
Justin Cook
Japanese
Kozo Shioya
Professional Status
Affiliation(s)
Babidi's Forces
Counterpart(s)
Majin Bū (Good)
First Appearance
Manga Debut
Volume #40, Chapter #484
Anime Debut
DBZ254
DBK134
Techniques
Image Gallery
Boo (ブウ, Bū), also known by the title Majin Boo (魔人ブウ (純粋悪), Majin Bū (Junsui Aku); FUNimation "Evil Buu", Viz "Djinn Boo/Skinny Boo"; Literally meaning "Genie Boo (Pure Evil)") is the expelled evil from the good Majin Boo in physical form.
Background
Personality
Appearance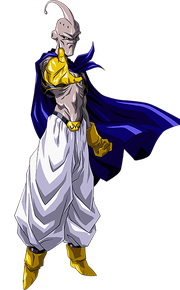 Abilities
Dragon Ball Z
Majin Bū Arc
Creation and Conception
Trivia
Majin Boo's name is a pun on the magic phrase from the movie Cinderella, "Bibbidi Bobbidi Boo". The wizards Bibidi and Babidi all derive their names from different portions of this phrase.[3]
Quotes
References
Ad blocker interference detected!
Wikia is a free-to-use site that makes money from advertising. We have a modified experience for viewers using ad blockers

Wikia is not accessible if you've made further modifications. Remove the custom ad blocker rule(s) and the page will load as expected.