Dyrasen

ジラセン Jirasen

Personal Data
Universe
10th Universe
Race
Alien
Gender
Male
Professional Status
Team(s)
10th Universe
First Appearance
Anime Debut
DBS096
Image Gallery
Dyrasen (ジラセン, Jirasen) is a warrior from the 10th Universe.
Background
Hours before the Tournament of power, Jirasen was scouted out by the Hakaishin, Rumoosh and his guide Kusu, who was selected based on his physique.[1]
Personality
Appearance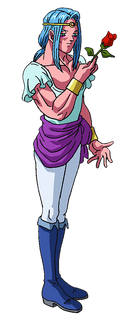 Abilities
Little is known about Jirasen's power, but Rumoosh selected him as a competitor in the Tournament of Power.
Trivia
References
↑ Dragon Ball Super episode 90