Dragon Ball Super (ドラゴンボール超, Doragon Bōru Sūpā)[1] is a direct sequel to the original Dragon Ball franchise, announced on April 28, 2015. It is produced by Toei Animation and is written by Akira Toriyama.
Plot
The plot of the series will directly follow the Majin Boo story arc. Starting six months after Gokū defeated Majin Boo, it will feature the God and God Arc, where the Hakaishin, Beerus appears; the Revival of "F" Arc, where Freeza comes back to life; and then the story takes an entirely original turn as the Dragon Team departs from the 7th Universe to battle against their neighbors in the 6th Universe. The focus will be finding giant Super Dragon Balls, and due to another Universe appearing, there will be new character introductions with unique designs.[2]
Anime
See also: Dragon Ball Super Animation Credits and List of Dragon Ball Super episodes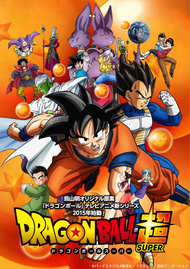 The series airs on Japan's Fuji TV and began running on July 5, 2015.[3][4] Only June 15, 2015, the announcement was made that the main Japanese cast was reprising their roles for the new anime series. Additionally, two new characters — Champa and a being looking much like Whis — were introduced.[5] Chōzetsu ☆ Dynamic!! and Hello Hello Hello were chosen to act as the anime's opening and ending themes respectively.[6] Additionally, Norihito Sumitomo, the composer for both Dragon Ball Z: God and God and Dragon Ball Z: Revival of "F" will be reprising his role as composer for the series' musical score.[7]
The series itself takes place shortly after the defeat of Majin Boo, and will feature plot elements that lead into the movie Dragon Ball Z: Revival of "F". Additionally, Beerus and Whis, who debuted in Dragon Ball Z: God and God, will become regular cast members in the new series.[8]
Manga
See also: List of Volumes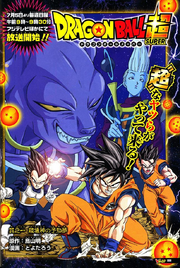 In addition to the anime, a manga adaptation of Super was announced and began running in the August 2015 issue of V Jump (released on June 20, 2015).[9][10] The manga adaptation is done by Toyotarō.[11] Toriyama is credited with the manga's "original story" (原作, gensaku), while Toyotarō is credited with the "manga" (漫画) itself, on the cover for the first chapter. The manga depicts some material not seen in, or has included minor events that play out differently from the anime series with the mixed materials, likely due to being run by Toyotarō. Eventually, it's announced on Weekly Shōnen Jump #45 issues that the manga will skip the entire Revival of "F" Arc and charge on ahead of the anime with the new Hakaishin Champa Arc.[12]
The manga later received the English translation by Viz in June 2016 with the first chapters published on their website for free. Eventually, Viz announced their plan to release a print edition of the manga in spring 2017.[13]
Production
Toei is angling for a 150-episode minimum for the new anime series, but they're pushing for anywhere between 100-150 episodes, a stark contrast to current anime of the time.[14] This was later confirmed when Toei listed the anime at 150 episodes.[15]
During the run of the God and God Arc, North Kaiō and Opening narrator's voice actor Jōji Yanami leaved his role to Naoki Tatsuta (Oolong's voice actor). Yanami has been on indefinite leave since episode 12.[16]
On february 2016, a unknown scriptwriter under the pen name of King Ryū was charged by Toei with the responsibility of series composition for the Hakaishin Champa Arc for the Dragon Ball Super TV series.[17] During this time the series undergoes another significant change, Morio Hatano is appointed the role of series director alongside Kimitoshi Chioka, starting from episodes 33 onward.[18]
As of the "Future Trunks Arc", Akira Toriyama himself detailed how the process of writing the new anime goes:
"
Next up in Dragon Ball Super, adult Trunks will be putting in his first appearance in a long time! I put together this story based on a suggestion from the editorial office. Like last time, I write an outline of the entire plot, then the script writers break it up into episodes, expanding on things, changing things around, or adding in new bits as need be.
"

—Akira Toriyama
[19] During the begining of the "Future Trunks Arc" series director Kimitoshi Chioka steps down his postion, leaving his co-director Morio Hatano and the series sole director.[20]
On October 22 2016 anime streaming service Crunchyroll, Daisuki and AnimeLab began an English-subtitled simulcast for Dragon Ball Super on their respective platforms starting with episode 63 as well as offering the full "Future Trunks arc" (beginning with episode 47). Starting on October 30, the platforms would offer 10 of the earlier episodes per week. The streaming became available on Crunchyroll in the United States, Canada, Australia, and New Zealand for both free users and subscription members and Crunchyroll subscription members only in Latin America and South Africa. Daisuki would stream the series in the United States, Canada, Australia, New Zealand, and Europe (except for some countries) for free users and members. AnimeLab will stream the series in Australia and New Zealand for free users and members.[21]
On November 4th 2016, FUNimation announces their acquisition of the TV series to simiulcast new subtitled episodes on their "FunimationNow" service each Saturday, as well as to produce an English dub.[22]
From episode 68 onward Hatano Kouhei joins the series as Co-Director alongside Hatano Morio.[23]
On December 7th 2016, Toei Animation Inc., Funimation© Entertainment and Adult Swim announced their partnership to bring "Dragon Ball Super" to TV audiences in January of 2018. Adult Swim would begin airing the U.S. English dub of "Dragon Ball Super" Season 1 during the Toonami block starting on January 7, 2017 at 8 p.m. and 11:30 p.m. ET. Season 1, which totals 26 episodes, encompassesing the God and God and Resurrection F story arcs with new episodes of "Dragon Ball Super" airing each Saturday.[24] On the third week of December 15th 2016, the official Dragon Ball Super website revealed the key visual and brief synopsis for the Universe Survival Arc.[25]
Dubbed
On November 10, 2015, it was announced that Dragon Ball Super will receive the English-language world premiere by Toonami Asia in mid-2016.[26] On October 19, 2016, Toei Animation announced that an official English sub of the series will air on Crunchyroll, Daisuki website, and Anime Lab beginning from episode 63.[27]
Arcs
The arcs were first named after the movies they cover, specifically, Dragon Ball Z: God and God and Dragon Ball Z: Revival of "F", before introducing the completely new materials. The arcs are as follows:
Reception
The reception for Dragon Ball Super has been relatively mixed, but episode five was notably despised due to the low-quality animation.[28] The original series author, Akira Toriyama, likely had his complaints about the quality of the new series himself.[29]
Trivia
Rather notably, character heights have been portrayed as inconsistent in between the Dragon Ball manga, the Dragon Ball Z anime, and Dragon Ball Super. Vegeta and Kulilin having come up to No. 18's jawline in the original manga and anime, but now barely reaching his wife's shoulder in Dragon Ball Super.
References
External Links
Ad blocker interference detected!
Wikia is a free-to-use site that makes money from advertising. We have a modified experience for viewers using ad blockers

Wikia is not accessible if you've made further modifications. Remove the custom ad blocker rule(s) and the page will load as expected.